This page constitutes an
ADVERTISEMENT

CARTOONS & OTHER ART
And yes, we are not only interested in science and computer algorithms but also in cartoons and other art.
Our art studio's web site is currently being set up and will be available effective November 10, 2019, at the following address:
» The RD-AVENUE Art Studio
The development office is not selling any work of art online nor do we provide any information on prices and other detail pertaining to the availability or any purchasing detail of our cartoons and other works of art. These pieces of information are available offline from the information desk of our new art studio, currently available at the translation office's site, see info below.
This information page is currently being edited and will be replaced by the web site mentioned above. All cartoons presented, published, sold or available for purchase were designed, drawn, and colorized between the 1970s and today by Dr. Rudolf R.H. Dittrich.
Some paintings, currently not presented on these Internet pages but also available for purchase, are the intellectual property of the author's mother who is an artist with a degree in art history.
Examples
The following five cartoons cover scenes from everyday life. Part of the other cartoons we offer are related to science and engineering topics, including software development, and our offices' work.
THE LIGHT BULB:


Changing a light bulb ...

... may lead to unexpected results!
Higher resolution copies available
Higher resolution copies of all cartoons presented on this page and additional drawings are available and can be bought from us. Contact the
art studio's information desk of the author
available at the S/W Documentation and Translation Office's site for information on available comics, other drawings, prices and shipping conditions. Please allow for a few extra days before receiving an answer to your inquiries. Due to ongoing project work, and the sheer volume of incoming mails, we unfortunately cannot process all communication the same day we received it.
Exercising is better than drinking...:


Hand stand ...

... even with
one hand!

Near the Oktober fest...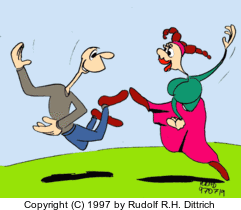 YET ANOTHER couple dancing.
Additional information
ADDITIONAL information will be available on our new art studio page, see beforementioned link. All contents, including the above examples of cartoons and other artwork presented on this and the office's other pages were published during the last decades, and are the sole property of Dr. Rudolf R.H. Dittrich, D-82024 Taufkirchen, Germany (address: see site info page). Purchasing a higher resolution copy of any cartoon or other piece of art does not transfer copyright or any other right of the copyright holder including the right to print, copy, distribute, and sell additional copies of the cartoons or any other artwork. Contact the author's art studio's information desk for additional detail (address: see
Link to art studio's information desk
at the S/W Documentation and Translation Office site)!
You are invited to visit this page again!
— END OF ADVERTISEMENT —